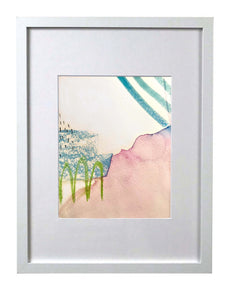 SOLD.
Blinding is a mixed media water color painting with chalk pastel on watercolor paper. Inspired by the blinding glare of the sea on a summer vacation day at noon. It's the glare for me.
Blinding has lots of washy watercolor marks and sharp, bright marks made with pastel. 
This is an original mixed media painting on paper and is matted and framed in a modern, clean white frame.
Framed Piece/ Total size: 12x16 inches 
Signed on back by Lacy M. Freeman